Join us...
As we celebrate the future of Roosevelt Row and downtown Phoenix at the Roosevelt Row Artists' District Visioning Launch Party on February 20 from 6 p.m. to 9 p.m. at The Nash.
The party will feature the debut of the visioning publication, "Roosevelt Row Artists' District: Creative Placemaking in Downtown Phoenix." Enjoy food and drinks from award-winning restaurants including Mamma Toledo's, Pizza People Pub, Short Leash Hot Dogs and Welcome Diner, delicious beverages from Lumberyard Brewing Co. and live music by local performers. There will also be a presentation led by community members who contributed to the visioning project, all who are proud to call Roosevelt Row home.
The publication, an outcome of an ArtPlace America grant, marks the beginning of a new chapter of creative placemaking in downtown Phoenix.
Come be a part of the continuing story...
The regular ticket price is $10 online or at the door and includes food and two drinks - plus the opportunity to see the vision for the future of Roosevelt Row. Tickets are limited so make sure to get yours before they're gone!
Guests have the option of purchasing a paperback or hardcover copy of the publication with their ticket. Books will be available for pick-up at the Visioning Launch Party.
Speakers
Cindy Dach
Co-founder of Roosevelt Row CDC
& owner of MADE art boutique
Leslie Lindo
President of IKOLOJI Sustainability Collaborative & Co-founder of Project Rising
Vermon Pierre
Board President of Roosevelt Row CDC
& Lead Pastor at Roosevelt Community Church
"Cycle of Love" currently in display @ Goings Galleria for the month of January. Mixed media on 30x30 on canvas. #art #arte #aaronallen #artist #Color #woman #love #butterflies #mixedmedia #acrylic #oil #phoenix #az #downtown #GoingsGalleria #Roosevelt #rooseveltrow
Join us tonight for the grand opening of the Hot Box Gallery, the one and only pop-up shipping container art gallery in #rooseveltrow and #dtphx! Opening reception featuring work by Abe Zucca starts at 6 p.m. at the A.R.T.S. Market lot.
It's so nice out today! #phx #phxaz #phoenix #phoenixaz #phoenixarizona #dtphx #downtownphx #downtownphoenix #rooseveltrow #cellardoor #cellardoorvintage #vintage #vintageclothing
Happy #ThirdFriday!! Get out tonight and support the arts & local @RooseveltRow @GrandAvePhoenix @artlink_phoenix http://t.co/qFqO8n2q98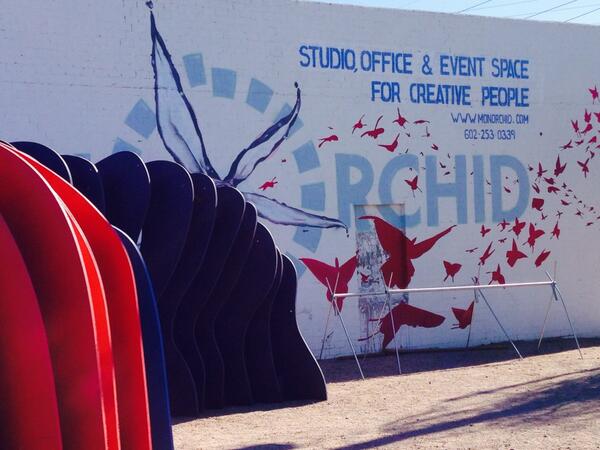 #phoenix #streetart #rooseveltrow
#rooseveltrow is pretty neato. bunch of old homes converted into artsy retail, galleries and food. this is all happening NOW! #roro
No big deal, saw a painted bush downtown. What, you didn't?!? #paintedbush #azstreetart #dtphx #myphx #Phoenix #rooseveltrow #androidography #az365
Street art in Roosevelt Row. #rooseveltrow #phoenix #phoenixaz #arizona #streetart #urbanart #graffiti #painthewalls #art
Eating More & More Chiles
ROOSEVELT.ROW
Visioning Launch Party